100pieces/bag 3-way  Fishing Swivels Fishing Tackle
FEATURES:
Ensures high range of motion

3 way fishing o shape barrel swivelsfor easy attachment

Helps reduce line twists
High-quality materials
100Pieces Come in a resealable package
Color: Black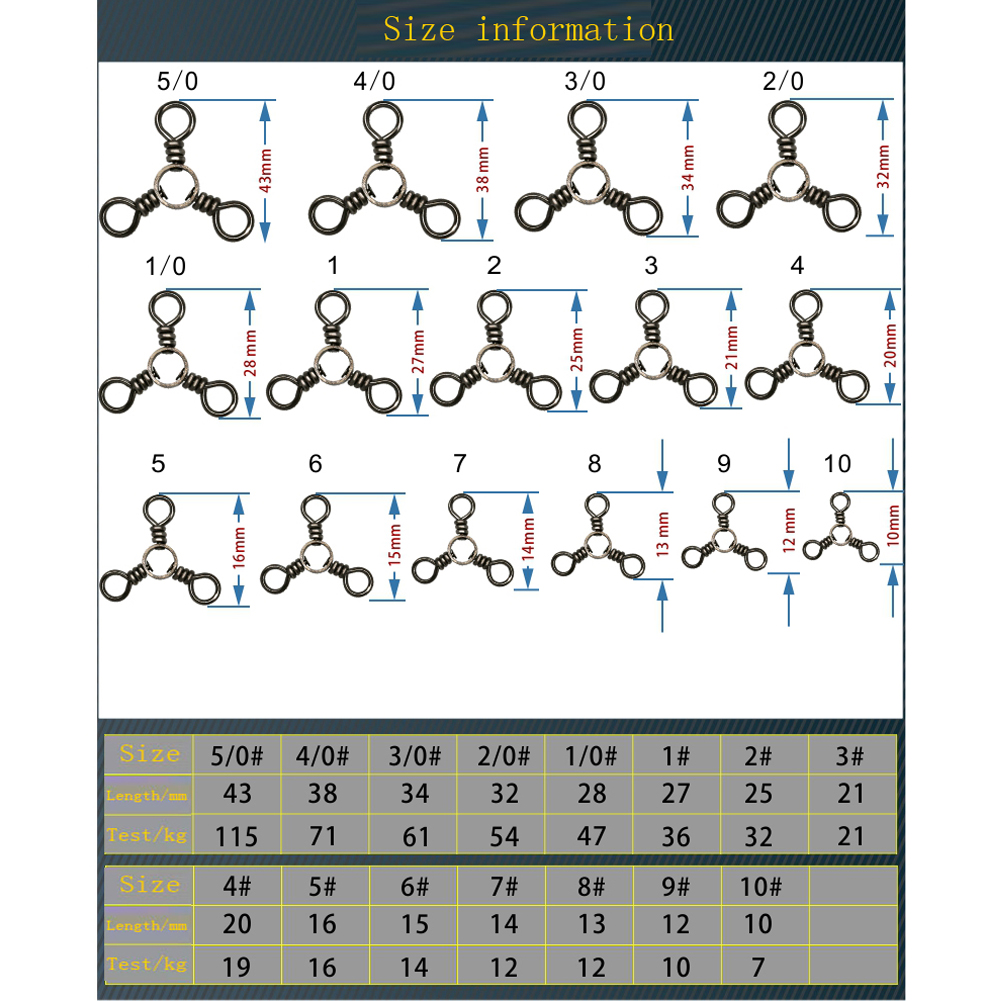 1#_27mm(1.06")_Test:36kg(80lb)
2#_25mm(0.98")_Test:32kg(71lb)
3#_21mm(0.82")_Test:21kg(47lb)
4#_20mm(0.78")_Test:19kg(42lb)
5#_16mm(0.63")_Test:16kg(36lb)
6#_15mm(0.59")_Test:14kg(31lb)
7#_14mm(0.55")_Test:12kg(27lb)
8#_13mm(0.51")_Test:12kg(27lb)
9#_12mm(0.47")_Test:10kg(22lb)
10#_10mm(0.39")_Test:7kg(16lb)
1/0#_28mm(1.1")_Test:47kg(104lb)
2/0#_32mm(1.26")_Test:54kg(120lb)
3/0#_34mm(1.33")_Test:61kg(135lb)
4/0#_38mm(1.49")_Test:71kg(156lb)
5/0#_43mm(1.69")_Test:115kg(255lb)
Note
1.If you have any questions, please feel free to email our service specialists 24 Hours a Day, 7 Days a Week.
2.Our aim is to provide Top Level Customer Service, so we will try our best to solve any problem.
3.We greatly appreciate your POSITIVE certainty. Please feel free to contact us if you have any problem with the order. We will reply you ASAP.